So excited for today's Friday Fancies swap! Take it away Rachel!
This week for Friday Fancies we are switching it up- literally! Alison set everyone up with a blog swap partner. So, hi! I'm Rachel and I blog over at Can't Google Everything!
Susan and I seem to have pretty similar styles when it comes to Fridays Fancies- we both feature classic and comfortable items! However- I noticed Susan tends to go for classic colors and pops of orange, while I prefer blues, reds and purple! So I hope you guys don't mind me mixing it up a bit with the pops of green in the outfit I made up for Susan!
I went with the theme of "Winter Wonderland" for this outfit. I fell in love with this black and green striped sweater dress and tried to bring out the green with the hat and nail polish! I can imagine walking through the snow on a date in this outfit (although you would need to add some tights or leggings to keep your legs warm!) and then going inside to warm up by the fire and have some hot chocolate! Just be sure to layer the gloves under your sleeves so you can show off those stripey, sparkly sleeves!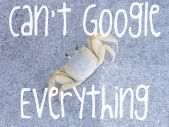 Happy Friday everyone!

Thanks so much Rachel! I absolutely love this outfit and would definitely, definitely wear it! I'm so excited to have swapped with you! Go over and show her some love and see what I picked out for her!
Have wonderful weekends everyone!